Resources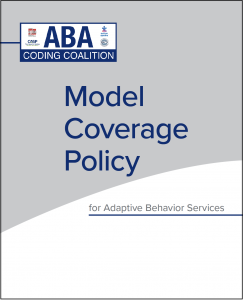 This document has been developed to assist providers, billers, and payers in implementing comprehensive payer policies for the Category I and modified Category III CPT® codes for adaptive behavior (applied behavior analysis; ABA) services. The model policy is also designed to familiarize payers with ABA services and guide them in implementing coverage policies and monitoring utilization of those services.
Information and recommendations are provided to help ABA practitioners make decisions in four key areas: determining if ABA services are deemed "essential" under emergency governmental orders; complying with behavior analyst licensure laws and rules, especially as they pertain to telepractice; using professional standards to guide decision-making about service delivery; and working with third-party payers on the delivery of services via telehealth.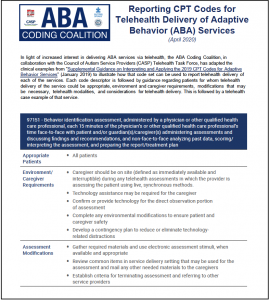 In light of increased interest in delivering ABA services via telehealth, the ABA Coding Coalition, in collaboration with the Council of Autism Service Providers (CASP) Telehealth Task Force, has adapted the clinical examples from the "Supplemental Guidance on Interpreting and Applying the 2019 CPT Codes for Adaptive Behavior Services" (January 2019) to illustrate how that code set can be used to report telehealth delivery of each of the services. Each code descriptor is followed by guidance regarding patients for whom telehealth delivery of the service could be appropriate, environment and caregiver requirements, modifications that may be necessary, telehealth modalities, and considerations for telehealth delivery. This is followed by a telehealth case example of that service.
The November 2018 issue of the CPT® Assistant, a newsletter published by the American Medical Association (AMA), includes an article about the 2019 CPT® codes for adaptive behavior services that is an essential resource for everyone who bills health plans for ABA services. The AMA has granted the Association of Professional Behavior Analysts (APBA) permission to make that issue available to its members free of charge in the members portal of the APBA website. Current members can access the CPT® Assistant and other resources for implementing the 2019 code set by logging into www.apbahome.net, going to Members Only, and scrolling down to Health Insurance Coverage. Those who are not yet members can find information about memberships for ABA practitioners, students, consumers, and others at the APBA website.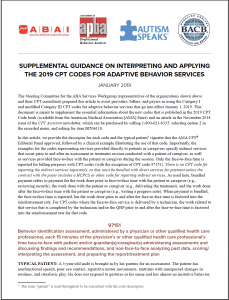 This article is provided to assist providers, billers, and payers in using the Category I and modified Category III CPT® codes for adaptive behavior services that went into effect January 1, 2019
Unsure about codes that payers are using for ABA services? This chart outlines the essential elements of ABA assessment and treatment services and the HCPCS and CPT® codes that have been used for reporting and billing those services. In particular, it shows the conversion of the Category III (temporary) CPT® codes that were issued in 2014 to the Category I and modified Category III codes that took effect on January 1, 2019. The accompanying letter provides additional important information about the 2019 code set.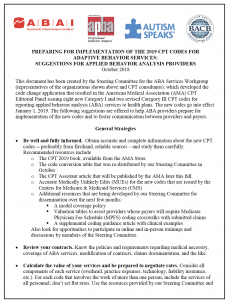 This October 2018 document outlines strategies and content for providers to use in communicating with payers about implementation of the 2019 CPT® codes for adaptive behavior services.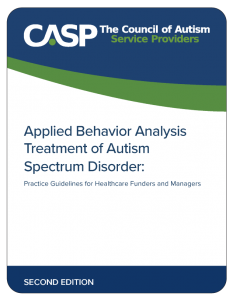 The guidelines are intended to be a resource for healthcare funders and managers, regulatory bodies, consumers, service providers, employers, and other stakeholders.
The purpose of this statement is to assist payers and providers by clarifying and amplifying the Guidelines that pertain to the intensity of treatment, the intensity of case supervision, and caregiver training. Some of the key features of ABA services that are outlined in the Guidelines are reiterated first to provide emphasis and context.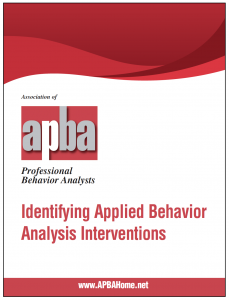 This resource was developed by the Association of Professional Behavior Analysts to help consumers, professionals, funders, and policymakers differentiate ABA interventions from others. It describes the defining features of the science of behavior analysis as well as the applied arm of that discipline, some of the many applications, and the professional practice of ABA, and addresses some of the most common misconceptions about behavior analysis. The paper is available here in English and in both English and French at www.apbahome.net > Practice Guidelines.